Main content starts here, tab to start navigating
Menus
Slide 1 of 3
Slide 2 of 3
Slide 3 of 3
Quarantined lunches never looked so good!
Every Day 11am to 3pm
For the teams that work hard + the groups keeping all of us going, we're here to keep you going. With our new deli service, you can order $9 boxed lunches for your team, or send your favorite essential + front line workers a simple sign of thanks with an amazing sandwich. It's the least we can do to show some love.
Email Info@piercetavern.com for all catering + delivery orders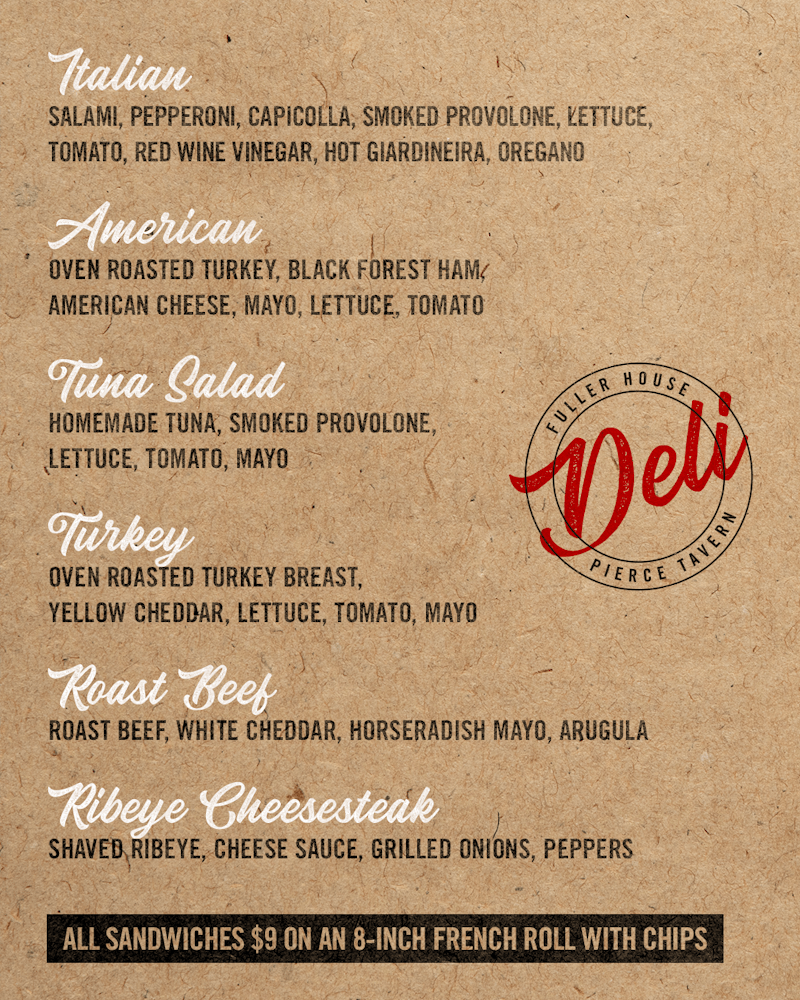 Small Plates
BUFFALO SHRIMP

buffalo sauce, blue cheese crumbles, carrots + celery, ranch dip

KALE + ARTICHOKE DIP

parmesan + asiago cheese | baked pita + tortilla

WOOD FIRED PRETZEL TWIST

pimento cheese, honey mustard + queso (1, 2 or 3)

CALAMARI

fried basil, lemon soy aioli

NASHVILLE FRIED CHICKEN SLIDERS

pimento cheese | b + b pickles ( 4 to an order)

TUSCAN BOARD

olive tapenade | balsamic cherry tomatoes whipped ricotta | spicy cherry peppers | grilled bread | focaccia

CAULIFLOWER BITES

parmesan, cherry peppers, parsley, garlic + black pepper aioli OR buffalo sauce, blue cheese crumbles, ranch dip

CLOCK SHADOW CHEESE CURDS

southwest ranch + crushed tomato sauce

GUACAMOLE

pico de gallo, tortilla chips

DADDY'S WINGS

buffalo, BBQ, hot garlic, blue cheese or ranch, celery + carrots (traditional or breaded)

WOOD FIRED NACHOS

cheese sauce, chihuahua cheese, poblano corn salsa, onions, guacamole, pico de gallo, sour cream, jalapeños

add a meat

FILET SLIDERS

onion strings | arugula | horseradish aioli | herb oil (3 to an order)

TUNA POKE

ahi tuna | avocado | jalapeno | red onion sesame seeds | chili garlic sauce | wonton chips

SMOKED WINGS

bourbon bbq | blue cheese or ranch celery + carrots
SOUP + SALADS
ROTATING DAILY SOUP

WOODFIRED FRENCH ONION CROCK

HICKORY SMOKED BRISKET CHILI

cornbread croutons, pepper jack, sour cream + scallions

HARVEST

fried goat cheese | crispy sweet potatoes | apples | red onions | pumpkin seeds | mixed greens | peach vinaigrette

SHRIMP PANZANELLA

feta, herb bread croutons, tomatoes, cucumbers red onion, red wine vinaigrette

SMOKED BBQ CHICKEN

pulled chicken pepper jack | fried jalapenos | onion strings red peppers | romaine | bourbon bbq | ranch

BLACKENED SALMON + KALE

parmesan | kale | sourdough croutons | caesar

SOUTHWEST TOSTADA

fried chicken, romaine, avocado, black beans, roasted corn, cheddar, pico-de-gallo, lime, southwest ranch

CHOPPED

grilled chicken, romaine, neuske bacon, grape tomatoes, roasted corn, avocado, tortilla chips, blue cheese, citrus vinaigrette

CRISPY BRUSSEL SPROUT

minced shrimp, jalapenos, shallots, carrots, cabbage, thai vinaigrette
HANDHELDS
choice of handcut fries, homemade chips or country slaw. truffle parm-2 buffalo-2 animal-3 sweet potato-3
BRISKET GRILLED CHEESE

white + yellow cheddar, carmelized onions, sourdough, bourbon bbq dip

BUFFALO CHICKEN

buffalo sauce, blue cheese crumbles, brioche, ranch dip

BLTTA+E

nueske bacon, lettuce, tomato, turkey, avocado, + fried egg, garlic mayo, sourdough

BLACKENED MAHI MAHI

cucumber slaw | tomatoes | arugula lemon | brioche

RIBEYE MELT

asiago cheese sauce | french onion marmalade | arugula | parmesan sourdough

CAPRESE

tomatoes, fresh mozzarella, basil, balsamic, pesto, baguette

add grilled chicken $0

add proscuitto $0

SPICY CHICKEN DOUBLE DECKER TACOS

adobo chicken, cheddar cheese, chihuahua cheese, lettuce, pico de gallo, chipotle ranch

BRISKET TACOS

smoked brisket, pico degallo, crispy onion strings, white bbq

FISH TACOS

mahi mahi | avocado jalapeno + daikon slaw | pickled onion cucumber | roasted chile mayo

SMOKED PULLED PORK, CHICKEN OR BRISKET SANDWICH

bourbon bbq | sriracha slaw | b + b pickles | pretzel bun
BURGERS
choice of handcut fries, homemade chips or country slaw. truffle parm-2 buffalo-2 animal-3 sweet potato-3
ALL AMERICAN

american cheese, lettuce, tomato, onion, pickles, brioche

MUSTANG

yellow cheddar, neuske bacon, onion strings, bourbon bbq, pretzel bun

GOUDACRIS

smoked gouda cheese, cherry pepper jam, true mayo, arugula, brioche bun

TAVERN

double 1/4 patties , fried egg, whiskey pepper bacon, american, house pickles, shallot aioli, brioche

THE HOUSE VEGGIE

blackbean patty, avocado, romaine, tomato, smoked chili mayo, brioche

SMOKE MASTER

chihuahua cheese | chorizo onions | smashed avocado | smoked poblano mayo | potato bun

WEST COAST

double 1/4 lb patties, animal sauce, caramelized onions, pickle chips, american cheese, lettuce, tomato, brioche

Exchange any burger for veggie, grilled chicken for turkey burger $0
PIZZAS
MARGHERITA

fresh mozzarella, basil, tomato sauce, evoo

ARUGULA + PROSCIUTTO

fresh mozzarella, lemon, garlic, evoo

ITALIAN SAUSAGE + GIARDINIERA

mozzarella, provolone, tomato sauce

ELOTE

mozzarella | chihuahua | roasted corn | poblano | cilantro | lime ancho chile mayo

PEPPERONI + RICOTTA

crushed red pepper, honey, mozzarella, provolone, tomato sauce

MEATBALL

fresh mozzerella | tomato cream | fried basil

CARNIVORE

mozzarella + provolone | pepperoni | italian sausage | hot salami | bacon | tomato sauce

QUATTRO FORMAGGI

fresh mozzerella | parmesan | provolone | asiago cream
LARGE PLATES
CAST IRON POT PIE

roasted chicken | carrots | celery | peas potatoes buttery crust

SHRIMP + GRITS

andouille sausage | white cheddar grits | cornmeal fried okra | garlic spinach

STEAK + POTATOES

14 ounce ribeye | potato bravas | garlic aioli | fried egg

RAMEN BOWL

pork + miso broth | bulgogi pork belly | bokchoy sambal sauce | pickled ginger | togarashi
SIDES
BAKED MAC & CHEESE

add chicken $0

add shrimp $0

add pulled pork $0

add brisket $0

add steak $0

BRUSSEL SPROUTS

parmesan, bacon, lemon

ONION STRINGS

bourbon BBQ sauce

MIXED GREENS

red wine vinaigrette

HAND CUT FRIES

TRUFFLE PARMESAN FRIES

diced red peppers, scallions + garlic mayo dipping sauce

BUFFALO FRIES

buffalo sauce, crumbled blue cheese, ranch

SWEET POTATO FRIES

honey mustard

ANIMAL FRIES

animal sauce + carmelized onions + american cheese
Booze
PIERCE FASHIONED

buffalo trace bourbon, demerara + angostura bitters

MERCHANT MAN

brown butter infused old forester bourbon, vanilla bean demerara, chocolate + black walnut bitters

DOLLARS + CENTS

blackberry infused bulleit bourbon, mint + house made lemonade

COUNT THE RINGS

blackberry house infused roku gin, spiced citrus syrup, almond syrup, mixed berry jam, lemon, burlesque bitters

GOLD MEMBERSHIP

banana house infused bourbon, vanilla citrus brandy, honey, lemon, banana chips

FALL BEHIND

all spice + clove house infused plantation 3 star light rum, smith + cross jamaican rum, blood orange juice, apricot liqueur, peach simple

THE LIBRARIAN

house infused blueberry tito's vodka, fresh pineapple + ginger beer

GREEN GOODNESS

zubrowka bison grass vodka, midori, aloe liqueur, ginger, lime

NO RESERVATIONS

arette blanco tequila, grapefruit soda, demerara, lime, habanero + black lava sea salt

GONE WITH THE GIN

smoked rosemary-infused barrel aged gin, fresh lemon, simple + prosecco

OL' SIX SHOOTER

mint house infused corozon tequila, pomegranate, grenadine, agave, lime, angostura bitters

HOW ABOUT DEM APPLES

apple + cinnamon house infused sneaky fox vodka apple brandy, ginger, cider, lemon, bitters
ROTATING COCKTAILS
BARREL AGED OLD FASHIONED

$14

BARREL AGED MANHATTAN

$14

HOUSE MADE SANGRIA

$10 - $15
MULES FOR THE TABLE
$10 or $40 (serves 3-5)
DOWNERS GROOVE

titos vodka, rotating infusion, fresh lime + ginger beer

RENTED MULE

arette blanco tequila, agave, fresh lime + ginger beer

DEM PEACHES

house infused peach bourbon, lime + ginger beer
Wine
ROSÉ, BAND OF ROSES, WA

ROSÉ, WHISPERING ANGEL, FRANCE

BRUT ROSADO, NAVERAN, SPAIN

PROSECCO, TERRE GAIE, ITALY

MOSCATO DOLCE, MIONETTO, ITALY (SPLIT)

CHAMPAGNE, MOET CHANDON, CA (SPLIT)

CHAMPAGNE, BOLLINGER 'SPECIAL CUVEE', FRANCE

CHARDONNAY, FOLIE A DEUX, RUSSIAN RIVER VALLEY

CHARDONNAY, PACIFICANA, CA

CHARDONNAY, BLINDFOLD BY PRISONER, CA

SAUVIGNON BLANC, SEAN MINOR, CA

SAUVIGNON BLANC, KIM CRAWFORD, NEW ZEALAND

PINOT GRIGIO, ANSELMI CA'STELE, ITALY

PINOT GRIGIO, LE MONDE, ITALY

RIESLING, CHATEAU STE. MICHELLE, WA

CABERNET SAUVIGNON, RAYMOND R COLLECTION, CA

CABERNET SAUVIGNON, WINES OF SUBSTANCE 'CS', COLOMBIA VALLEY

CABERNET SAUVIGNON, OAK FARM, CA

PINOT NOIR, HEAVYWEIGHT, CA

PINOT NOIR, GERARD BERTRAND, FRANCE

PINOT NOIR, MEIOMI, CA

MALBEC, FAMILIA ZUCCARDI 'SERIE A', UCO VALLEY, ARGENTINA

MERLOT, THE VELVET DEVIL, WA
Domestic
BUD LIGHT

$3.50

BUDWEISER

$3.50

COORS LITE

$3.50

CORONA

$4.50

HEINEKEN

$4.50

MICHELOB ULTRA

$3.50

MILLER HIGH LIFE

$3

MILLER LITE

$3.50

NEGRA MODELO

$4.50

PABST BLUE RIBBON

$3
Craft
ALTER, ROTATING SEASONAL

ANCHOR STEAM, AMBER LAGER

$5

CHURCH STREET, DEVILS ADVOCATE, BELGIAN STRONG PALE ALE

CIGAR CITY, JAI ALAI, IPA

$7

CRISPIN, CIDER

$5

DOGFISH HEAD, SEA QUENCH ALE, SOUR

GOOSE ISLAND, 312, WHEAT ALE

$5

HALF ACRE, PONY PILSNER

$6

KROMBACHER, PILSNER, (NON-ALCOHOLIC)

$5

LAGUNITAS, LIL SUMPIN SUMPIN, PALE WHEAT ALE

$6

NORTH COAST, OLD RASPUTIN, RUSSIAN IMPERIAL STOUT

SOLEMN OATH, END ALL, HAZY IPA

$6

TWO BROTHERS, PRAIRIE PATH, GOLDEN ALE (GLUTEN FREE)

$5

VIRTUE, MICHIGAN CHERRY, CIDER

$6
RESERVE LIST
GEORGE T. STAGG

JOHN J BOWMAN

JOHNNIE WALKER BLUE

MACALLAN RARE

MACALLAN 18

OLD RIP VAN WINKLE

PAPPY VAN WINKLE RESERVE 12 YEAR

PAPPY VAN WINKLE 15 YEAR

PAPPY VAN WINKLE 20 YEAR

PAPPY VAN WINKLE 23 YEAR

THOMAS HANDY SAZERAC RYE

WILLIAM LARUE WELLER
AMERICAN
GEORGE DICKEL 8 YEAR

GEORGE DICKEL 12 YEAR

JACK DANIELS

JACK DANIELS SINGLE BARREL SELECT

HIGHWEST CAMPFIRE

MICHTERS UNBLENDED

SEAGRAMS

SLAUGHTERHOUSE

SOUTHERN COMFORT
IRISH
GREEN SPOT

JAMESON

POWERS

TULLAMORE DEW
SCOTCH
ARDERG 10 YR

BALVENIE

DEWARS

GLENFIDDICH 12

J&B RARE

JOHNNIE WALKER BLACK

JOHNNIE WALKER RED

MACALLAN 12

MACALLAN 15

OBAN 14
RYE
BULLEIT

GEORGE DICKEL

HIGH WEST DOUBLE

KNOB CREEK

JACK DANIELS SINGLE BARREL

MICHTER'S KENTUCKY STRAIGHT

OLD OVERHOLT

REDEMPTION

SAGAMORE

TEMPLETON

WOODFORD RESERVE
Bourbon
1792 BOURBON

ANGEL'S ENVY

BAKERS

BASIL HAYDEN

BLANTONS

BLAUM BROTHERS

BRECKENRIDGE

BUFFALO TRACE

BULLEIT

CODY ROAD

EAGLE RARE

E.H. COLONEL TAYLOR

ELIJAH CRAIG SMALL BATCH

EVAN WILLIAMS

FEW BOURBON

FOUR ROSES

FOUR ROSES SINGLE BARREL

HENRY MCKENNA 10 YR SINGLE BARREL

HIGH WEST AMERICAN PRAIRIE

KNOB CREEK

JEFFERSON'S OCEAN

JIM BEAM

KOVAL BOURBON

MAKERS MARK

MICHTERS K.S.B

OLD FORESTER

OLD FORESTER 1870

OLD FORESTER 1920

RUSSELS RESERVE 10

SAVAGE & COOK

WILD TURKEY 101

WOODFORD RESERVE